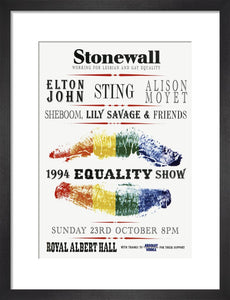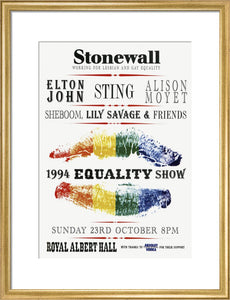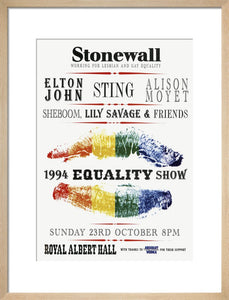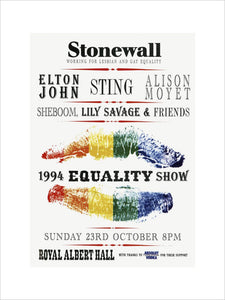 © All Images contained on this website are copyrighted property of their respective owners. All rights are reserved.
Description

Details

Delivery
Bring a piece of LGBTQ music history to your home with this Stonewall - Equality Show
 

at the Royal Albert Hall handbill cover poster.


Taking place 23 October 1994, Stonewall is the largest British charity for lesbian, gay and bisexual equality. Founded in 1988 to protest against the Section 28 amendment, which banned local authorities from promoting homosexuality, Stonewall went from strength to strength and in 1994 they hosted the first of seven Stonewall Equality shows at the Royal Albert Hall.

This event was attended by Labour leader, Tony Blair and the actor Richard Gere who got up on stage to squash rumours that he was gay by announcing that he was a lesbian. Other guests included Vivienne Westwood, Stephen Fry, Chris Smith MP, and Cheri Blair.


Find out more about this event here.
MATERIALS

Matte smooth fine art paper

250gsm
We have a range of delivery options available, for more information please see our delivery page.
Please note, framed prints are currently only available to UK postcodes.
Every purchase supports the Hall. Take a look at other ways to support us here.