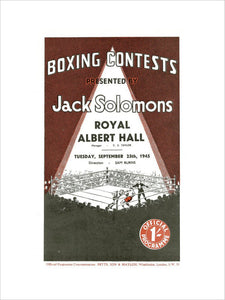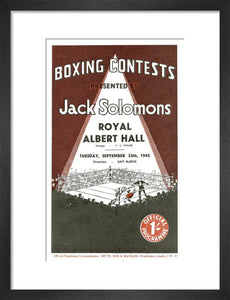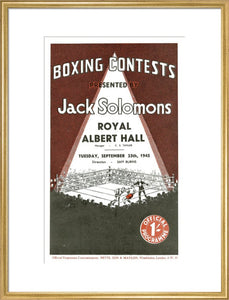 © All Images contained on this website are copyrighted property of their respective owners. All rights are reserved.
Description

Details

Delivery
Bring a piece of classical music history to your home with this Boxing Contests at the Royal Albert Hall programme cover poster.
Taking place 25 September 1945, the Royal Albert Hall is not only renowned as an iconic venue for music, pageants and balls it is also renowned for hosting sporting events as well. The boxing contests held by Jack solomon saw six rounds of fights with, two out of the six where Olle Tandberg (Sweden) v Eddie Phillips (Bow) and Cyril Gallie (Wales) v Claude Dennington (Peckham).
Find out more about this event here.
MATERIALS

Matte smooth fine art paper

250gsm
We have a range of delivery options available, for more information please see our delivery page.
Please note, framed prints are currently only available to UK postcodes.
Every purchase supports the Hall. Take a look at other ways to support us here.