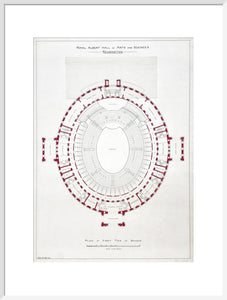 © All Images contained on this website are copyrighted property of their respective owners. All rights are reserved.
Description

Details

Delivery
Bring a piece of the Royal Albert Hall to your home with this Building drawing of the Royal Albert Hall.
Building plans produced before and during the original construction of the Royal Albert Hall, including this contract drawing, under the authority of Henry Scott and Francis Fowke in 1870. 
Find out more on all drawings on the Hall here.
MATERIALS

Matte smooth fine art paper

250gsm
We have a range of delivery options available, for more information please see our delivery page.
Please note, framed prints are currently only available to UK postcodes.
Every purchase supports the Hall. Take a look at other ways to support us here.