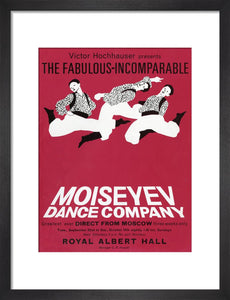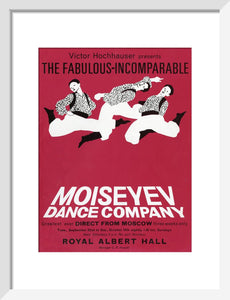 © All Images contained on this website are copyrighted property of their respective owners. All rights are reserved.
Description

Details

Delivery
Bring a piece of dance history to your home with this
 

Moiseyev Dance Company at the Royal Albert Hall programme cover poster.


Taking place 22 September - 10 October 1964, Formed in 1937 at the height of artistic censorship, a new genre of dance spectacle was created and skilfully utilised on a grand scale to support the Soviet Union's efforts both with internal and external policies.

'Say what you like about The Beatles, they are democratic to a fault. Tonight they arrive home from their conquest of America. Tomorrow night they go to the Royal Albert Hall - to have the mickey taken out of them by the Russians. Special arrangements have been made to sneak the lads to a heavily-guarded box next door to the Russian Ambassador's to watch the first night show by Misco's famous Moiseyev Dance Company. And the reason... The Red dancing gents have engineered their own brand of Beatlemania, a satirical modern ballet on life in the West in which four Beatle-sized Russia's appear as Paul, John, Ringo and George - complete with wigs.'

(Daily Mirror, 21 September 1964)

Find out more about this event here.
MATERIALS

Matte smooth fine art paper

250gsm
We have a range of delivery options available, for more information please see our delivery page.
Please note, framed prints are currently only available to UK postcodes.
Every purchase supports the Hall. Take a look at other ways to support us here.